Catching up with Morgan Parisek: 2014 Farnam All-Around AQHA Amateur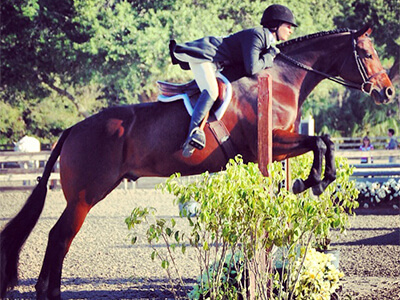 You don't have to be around Morgan Parisek for more than a few minutes before she's talking about Murray.
It doesn't take long to realize that Murray is someone special. In fact, Morgan says he's "perfect." He's definitely tall, dark and handsome and it's plain to see he's won her heart.
Murray's registered name is Better Buy The Minit, and this 10-year-old quarter horse gelding took Morgan all the way to the top as the duo won the coveted Farnam All-Around Amateur Award at the 2014 AQHA World Championship Show in Oklahoma City last November. The title is presented to the exhibitor who earns the highest number of points riding a single horse in a minimum of three classes. The World Show is a prestigious annual event that draws qualifying competitors from across the U.S. and around the world as they compete for 100 world championships in numerous events.
Morgan and Murray beat out 59 other contenders for top amateur honors as they competed in a variety of events. They won the world championship title in hunter hack and captured reserve world championship titles in hunt seat equitation and equitation over fences. They also placed third in working hunter and eighth in jumping. For all their hard work, Morgan and Murray earned the title of Farnam All-Around Amateur, taking home $15,000, along with $1,000 in Farnam products, an original Lisa Perry bronze, an embroidered WeatherBeeta horse blanket and a bouquet of roses. Morgan was especially pleased to receive her big "goody box" from Farnam, as Farnam products have always had a place in her family's barn.
No stranger to the AQHA World Championship Show, in 2012 Morgan earned fifth place in the Farnam All-Around Amateur title riding her sister's horse, Slow N Natural, but in 2014, everything fell into place for the win. It was a humbling and thrilling experience for Morgan, 23, who has been riding as long as she can remember. Capturing the Farnam All-Around Amateur Award was the biggest win of her riding career to date.
"The first part of the week was very successful for us. And I had an idea I might be up in the top five, but I didn't think I'd win the whole thing. So that was pretty awesome," says Morgan, who started showing when she was 12 and began showing quarter horses in the last five or six years. "I'd seen other people win the All-Around Amateur, and although it was a dream of mine, I never thought I'd accomplish it."
Morgan already considers Murray her best friend, but he came into her life only three years ago.
Raised in Chicago in a horse-centered family, Morgan and her sister, Alexis, easily caught the "bug" from their parents, Jerry and Jackie Parisek who both rode and met in the horse world. Morgan got her first horse, a kind gelding named "Cowboy," while still in elementary school. She rode numerous other horses through the years, but Murray came into the picture in June 2012.
The 16.2 hand, 2005 bay gelding by Do You Have A Minute and out of Tickle My Asset was bred in Florida by Kramer/Davis of Bradenton. When Morgan's trainer, Linda Crothers, discovered the horse, he was owned by Camilla Cumberland of North Carolina.
"Linda fell in love with him and was trying to find a customer to buy him," recalls Morgan. "She showed his video to me and my family, and we fell for him immediately. My first show with him was in July 2012 and it was a success. I'd just ridden him for the first time the week before."
Murray was a finished horse under saddle, but he had never jumped when the Pariseks purchased him. With Linda Crothers' and Morgan's guidance, he caught on quickly, and there were no challenges during his training.
"It was a piece of cake," laughs Morgan. "Murray's kind of a freak of nature. He made it easy."
At the time, Morgan was deep into her studies at Murray State University (MSU) in Murray, Kentucky. For two years, she rode on the MSU equestrian team, qualifying for nationals one year in two different disciplines.
Morgan moved Murray to the student barn at the university's equine facility so she could ride and train him regularly while in school. Thanks to the indoor arena there, Morgan was able to ride daily, regardless of the weather. (And no, her horse didn't earn his barn name after taking up residence at Murray State. He came with that moniker, making his purchase even more serendipitous.)
An average week for Murray and Morgan means riding every day.
Last year was a busy one for Morgan. In addition to winning the Farnam All-Around Amateur Award, she graduated from MSU with a degree in Animal Science in May 2014. She's since moved to the Lone Star state to pursue her education at Parker Chiropractic School in Dallas, where she plans to graduate in April 2018 with her degree in Human and Equine Chiropractic.
Murray, of course, is along for the ride. This winter he and Morgan headed to Florida to compete for several weeks on the Florida Quarter Horse circuit. Following that, Murray was given a well-deserved vacation at the Parisek family farm in Pleasant View, Tennessee. (They recently purchased the farm and moved from Chicago.)
"I'm bringing Murray to Texas and plan to do the Quarter Horse Congress and the AQHA World Championship show with him this year," says Morgan. "We'll primarily be doing over-fences classes and on the flat, but we're also starting to do some performance halter."
Morgan admits her favorite class is equitation over fences. Murray doesn't seem to have a preference; so long as he gets his cookies afterwards, he's happy doing whatever she asks.
An average week for Murray and Morgan means riding every day. Not all those rides take place in the confines of an arena. Morgan likes to take him on trail rides, too.
"It gives him something else to think about and gives his brain a chance to relax," she says. "Our philosophy is that now he knows his job, so it's more about keeping him fit and letting him enjoy life, rather than constantly drilling on him. He also gets turned out every day if the weather's nice. He's allowed to 'be a horse,' unlike a lot of show horses."
Some riders burn out, but not Morgan. Riding and competing is like fuel for her personal fire. She encourages other young riders to stay determined and do what they love.
"I plan to show forever; it's a huge passion of mine," she says enthusiastically. "That's why I chose a career in chiropractic, because I can do it at the horse shows."
Morgan has no qualms about channeling all her energy and focus into her equestrian pursuits. She also cherishes the bond she shares with Murray.
"I don't really have any other interests or hobbies," she says. "Murray's pretty much my whole life. He's pretty special and I love him. He's the sweetest horse, and he's been a blast from the start. He's one in a million."
A better description couldn't be given of any BFF … four-legged or two-legged.
Farnam is a registered trademark of Farnam Companies, Inc. Weatherbeeta is a registered trademark of Weatherbeeta Pty Ltd.
Life with Horses Newsletter
Sign up now to stay connected with free helpful horse care tips, product updates, and special offers.