How Liniments Can Soothe Your Horse's Sore Muscles and Boost Recovery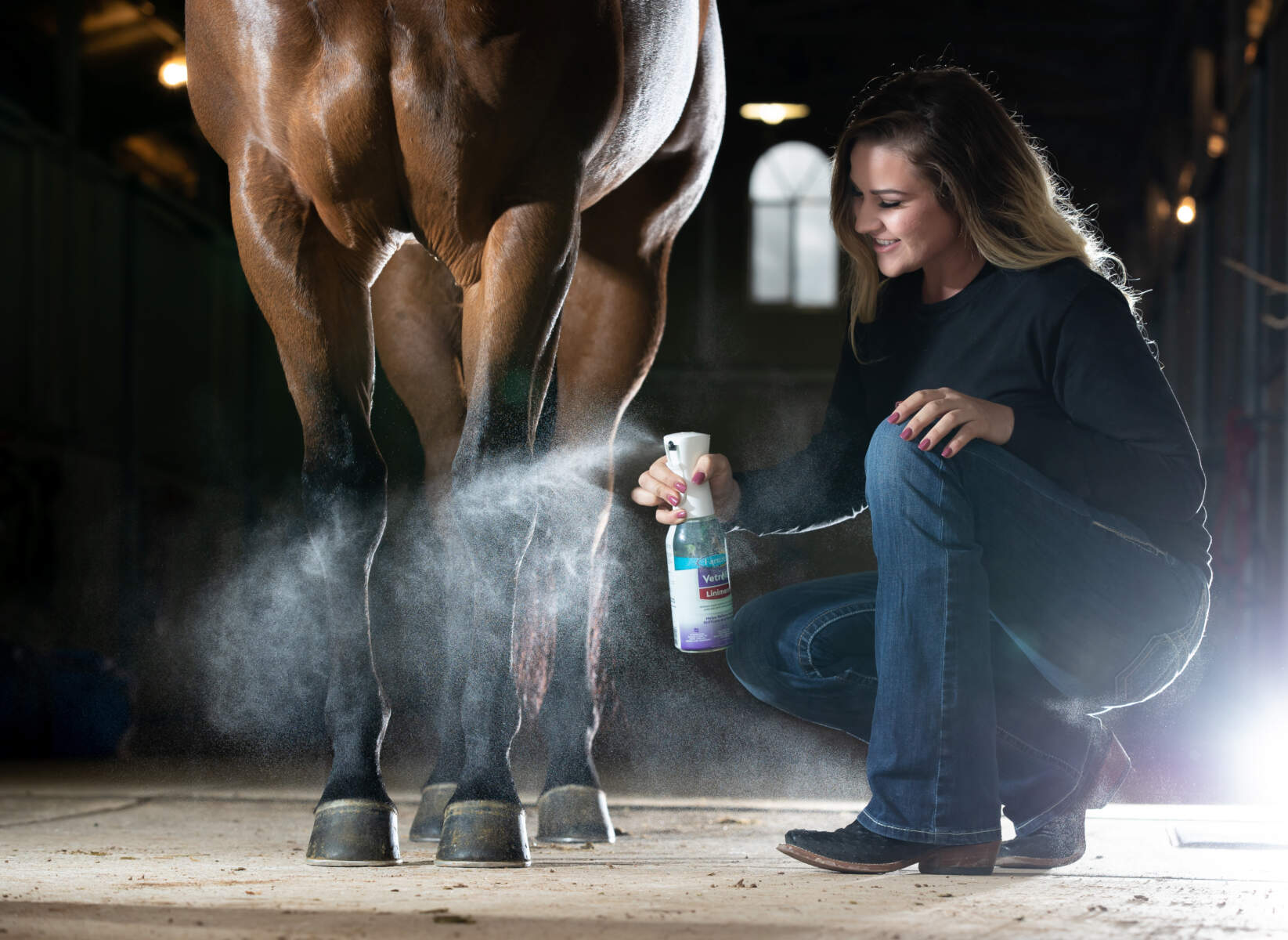 Whenever your horse works hard — whether you're training for an upcoming event or taking an hours-long trail ride — his legs and muscles can benefit from extra care afterwards.
Exertion heats up the horse's muscles, tendons and ligaments. Inflammation can also develop as his body works to meet increased physical demands, particularly with intense training, or if the horse is out-of-shape to start with.
Used post-workout, a horse liniment can soothe sore muscles and boost recovery. It also cools overheated legs and fights inflammation.
What are liniments?
Liniment products (whether liquid, gel or lotion) are used to help relieve pain, soreness, stiffness as well as to refresh and cool the body. Most liniments are meant to be used after exercise, not before.
Depending on the active ingredients, a liniment will have either a cooling or warming effect. Read the label to determine which sensation a product will promote.
For example, alcohol is a common ingredient that provides for a quick cooling effect due to alcohol's rapid evaporation. Certain oils also help with cooling by causing capillaries to dilate.
Menthol is a popular ingredient that creates a cooling sensation, following by a warming effect. As a counterirritant, menthol increases blood flow to the area, which is what brings the warming.
Some liniments aren't meant to be used under horse leg wraps, so be sure to read and follow label directions if you plan to bandage the legs.
Be proactive
"When horses are getting worked hard every day, your biggest enemy is inflammation," says Kevin Oliver, whose SnaffleBit Quarter Horses is located in Canyon, Texas. An AQHA Professional Horseman, Oliver is a sponsored rider and ambassador with Farnam Companies, Inc.
"As a trainer, there are things you can do to battle soreness and inflammation to allow for horses to keep working every day," notes Oliver, who trains and shows reined cow horses.
Some of these tactics include proper warmup before exercise and routine use of liniments after workouts.
Warm up before exertion
Just as human athletes take time to stretch before competition or working out, your horse's body also needs warm-up time before you ask him to exert himself. Using liniment regularly doesn't mean you can skip warm-up.
"For a conditioned horse, less warm-up time is required. You may only need 5 to 10 minutes to warm up a fit horse. If a horse is not in condition at all, the whole 45-minute ride could be warm-up," says Oliver, who uses walking, trotting and loping circles to encourage the horse's spine and ribcage to flex and open up.
"You want the horse's spine to assume the same arc as the circle you're riding. Start out with larger circles and then go smaller. Ride in both directions and include some figure-8s," he suggests.
Post-workout rinse
"Liniment helps the horse cool down after workout and it's also a refresher that helps them feel better. I love the spray liniment for quick, easy application," says Oliver, adding that this is an everyday go-to in his barn.
Essential oils, like the aromatic combination in Vetrolin Liniment, make it both soothing and invigorating for the horse, plus the liniment has a stimulating scent.
You can make a refreshing post-workout "brace" by adding liniment to a bucket of water. (Check the label for how much to add.) Hose your horse following exercise and scrap off the excess water. Then apply the liniment water as the final rinse and don't scrape again. Just let the horse's coat air dry.
Oliver also likes to wash horses using Vetrolin Body Wash.
"It serves like a 'pick-me-up' at horse shows when you've been riding for hours and the horse's back is hot and may be sore," he notes.
Liniments can help boost muscle recovery
Legs and muscles can benefit from routine application of liniment.
"Muscles are stretched out by work and liniment helps tighten them up and cools them down. It's also soothing," says Oliver. "The cooling effect of liniment and liniment gel helps bring down the heat in overworked and sore muscles. It helps draw out inflammation and allows muscles to recover."
Oliver explains that daily use of liniment after workout may shorten the time needed for warmup the next day with a fit horse. This is because liniment cools and tightens the ligaments and tendons in the legs.
You might think putting liniment on legs before a ride will help, but the opposite is true, so this is not recommended.
"Liniment combined with boots can dramatically increase heat inside the boot, so save liniment for post-workout," advises Oliver.
Cold weather use
During cold weather when you don't want to get your horse's whole body wet after exercise, you can simply apply liniment to a damp sponge or rub rag and give his legs and back a rubdown.
"If it's really cold out, liniment can have a severe cooling effect, so it may not be needed," says Oliver, noting that you can use liniment gel like Vetrolin Liniment Gel with Hyaluronic Acid after removing boots following a workout.
Pay attention to footing
Be aware that where you ride can significantly impact how hot your horse gets during exercise.
For example, many riders exercise their horses in sand-based arenas. Oliver explains that a horse will usually get hotter working on a sand surface as compared to doing the same type and amount of exercise on grass footing.
"There's a lot of reflective heat coming off sand, so horses will get hotter working on this type of ground. If you're working in an arena and your horse has boots on, his legs are getting lots of heat," says Oliver.
"Ground heat is a lot higher than the air temperature," he notes. "When you add humidity to the equation, this really holds the heat in."
Even if you're not riding on a sand surface, boots will generate heat on the horse's legs. Oliver recommends using a cooling liniment gel on the legs after removing boots.
If you're new to using liniment, learn more from professional horsemen as they share more tips.
Life with Horses Newsletter
Sign up now to stay connected with free helpful horse care tips, product updates, and special offers.