Anthony Luna Posts Strong Showing at AQHA Zoetis Versatility Ranch Horse World Championships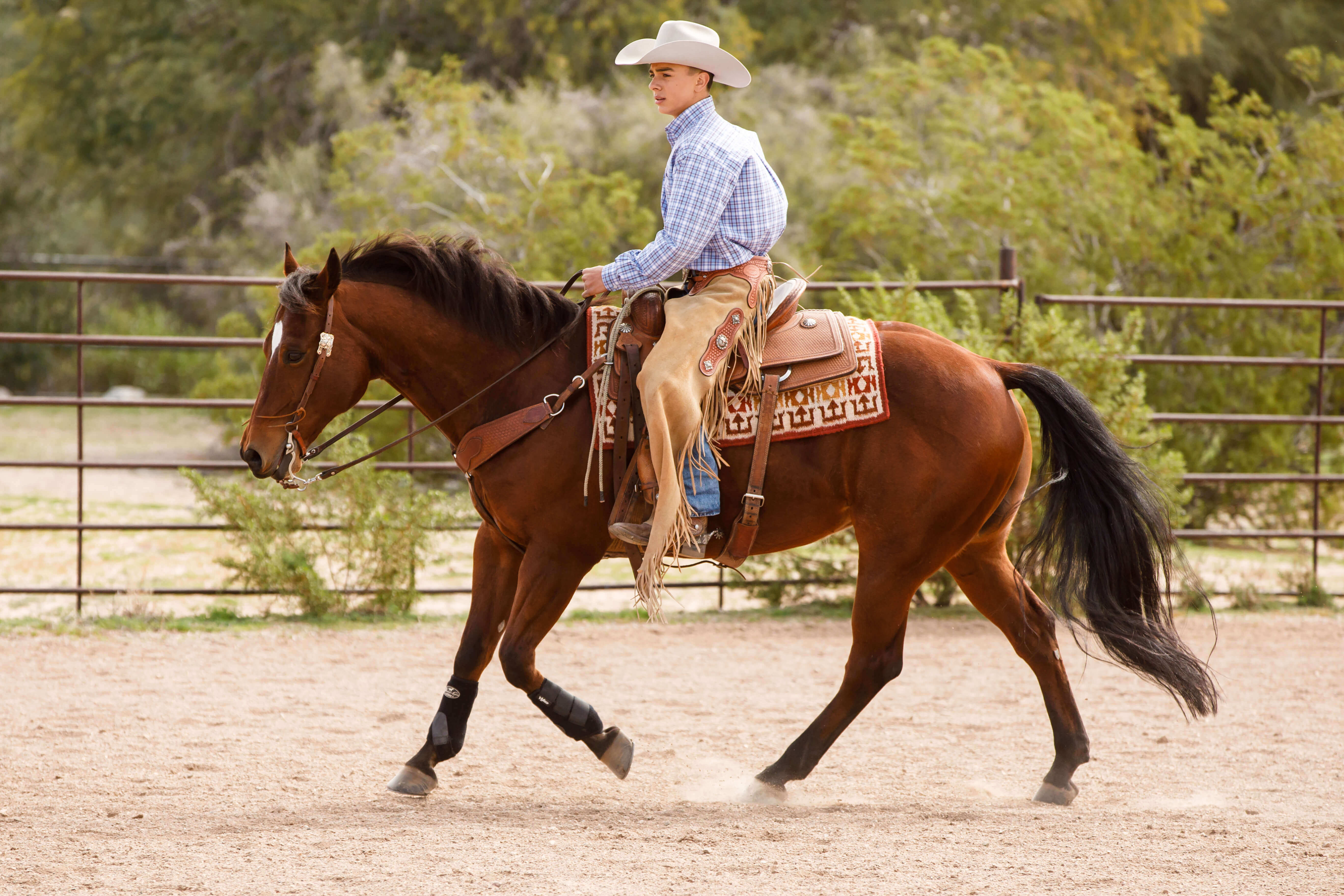 When Anthony Luna loaded his little bay gelding, Calvin, into the three-horse slant-load trailer on the morning of March 20, they began the longest trip the two had ever undertaken. Anthony and Calvin had qualified to compete in the youth division of the AQHA Zoetis Versatility Ranch Horse World Championships, and it was, as they say, time to get the show on the road.
It's a long haul from Flagstaff, Arizona, to Houston, Texas. Just over 1,200 miles and about 18-1/2 hours of driving.

"My dad drove the whole way," says Anthony, 15. "In addition to my mom and dad (Marissa and Carlos Luna), there were a handful of our Arizona and California versatility friends also competing at the World Show. It was great to meet everyone in Texas."

Calvin (short for Calboys Hometown), is a 14-year-old Quarter Horse gelding. It was with Calvin that Anthony won the AQHA youth ranch horse versatility in Corning, California, last fall, which qualified them for the world championships. Anthony and Calvin also won the youth Western States Versatility Ranch Horse versatility finals in November 2016.

Calvin made the trip in great shape, drinking well and eating from his hay bag throughout the trip. An overnight stop at Texas Tech Equestrian Center, in Lubbock, helped break up the long journey and allowed the horse time out of the trailer.
Busy Week

Once the Luna family arrived at the Houston Livestock Show and Rodeo grounds, Anthony and Calvin had just two nights and one day before their three days of competition began. The event was the largest Anthony has competed in to date, and the event itself was the largest since its inception in 2008, featuring 131 competitors and 920 entries.
"I really thought it turned out better than I expected and am very happy with how I did," says Anthony, who placed in the top 10 in four of his six classes.
Anthony and Calvin showed in six classes:

Limited Youth Cow Work
Youth Ranch Trail
Young Ranch Riding
Youth Ranch Reining
Youth Ranch Cutting
Youth Ranch Conformation

When the dust settled and all the results were in, Anthony and Calvin placed fourth overall in the Limited Youth World Championships and will be collecting a few checks for their efforts.

"I really thought it turned out better than I expected and am very happy with how I did," says Anthony, who placed in the top 10 in four of his six classes.
Those finishes include the following:

• 2nd out of 16 in cow work
• 4th out of 28 in trail
• 5th out of 24 in conformation
• 7th out of 27 in reining

"Cow work is one of Calvin's strong points; it's also one of the most fun classes. I've been working on this a lot and we had a really good cow," says Anthony.

Ranch riding turned out to be one of their most challenging classes. The pattern wasn't one Anthony had ever ridden before and the arena itself was exceptionally large, bigger than any he and Calvin have competed in before. Add to that the crowd noise and enormous TV screens and it was a rather intimidating setting for Anthony's horse.

"Calvin got a little freaked out by the huge monitors and all the people in the stands for the ranch riding," says Anthony. "He was 'fresh' and he's not normally like that. If I had to do it all over again, I'd probably have gone to ride at night or super early in the morning to get him used to that big arena. It was really late and I wanted to get some rest, but I should have sacrificed some sleep for a better run. I would pace myself better next time."

If you don't get at least a little nervous showing at the world level, you probably aren't breathing. Anthony says he usually does get nervous when he competes, but tries to combat those nerves by focusing on his horse and talking with other riders.

"I really had a lot of fun in-between classes talking and meeting new people," he adds. "I was the only youth from Arizona, and really didn't know any of the other riders except Mei Mei Dorrance, who I'd showed against at the last two Western States versatility finals."

Not long before heading to Houston, Anthony spent a week with Al Dunning at his Almosta Ranch near Scottsdale, Arizona.

"That was a great time," says Anthony. "I probably wouldn't have done as well as if I hadn't gone. Al helped me a lot with finishing touching and polishing up our routine."

Looking Ahead

So, what's next for the dynamic duo of Anthony and Calvin?

"We'll be competing at a local versatility ranch horse show in Camp Verde, Arizona, in April," says Anthony. "I already have enough points that I'm qualified for the world championship next year, so we won't have to do as many big shows as we did this past year. I'll definitely be riding to keep him fit and showing him at local shows.

"I'm also going to get back to riding my other horse Sonny and get him back in shape. We probably won't do cross country because it's pretty late in the season. I will also start riding Cooper, my mom's eight-year-old Paint gelding, and might show him a little too."

Anthony is also qualified with Arizona Sliders western reining and horsemanship team for IEA's zone 8 Western Finals at Colorado State University this May. He has been showing at local competitions with the college-minded organization since fall of 2016. It will be the first time he boards an airplane and the first show he attends without his parents. The team will be traveling with their coach Ashley Wilson-Hammer and team-mom Renee Balow.

Next on Anthony's busy agenda is more groundwork and training on RO Bluechip Dividend (barn name "Hazel"), the yearling Quarter Horse filly he won through the AQHA's Young Horse Development Program contest. Hazel has been turned out to pasture at Anchor Cross Ranch in Camp Verde, Arizona, with four other yearlings since the end of the contest last November. Turn-out time with a small herd has been good for the filly, but Anthony is excited to get her home to Flagstaff to begin training her under saddle.

"I plan to bring her back to our place in early April and start on her," says Anthony, who is excited about the little blue roan's potential. "I'll be taking her to an extreme trail course and doing some in-hand work with her before I start riding her in June or early July. She was a late baby, so she doesn't actually turn two until June."

Anthony hopes to turn Hazel into a good cow horse and also do some English riding with her, so look for this young filly to develop into a solid all-around horse. With Anthony in the saddle, the sky's the limit for this promising young horse. We'll check in with them in the future to find out how Hazel is coming along.

(Editor's Note: We hope you'll follow us on Farnam.com as we continue featuring our Young Horseman Series.)



Life with Horses Newsletter
Sign up now to stay connected with free helpful horse care tips, product updates, and special offers.