Meet Young Horseman Anthony Luna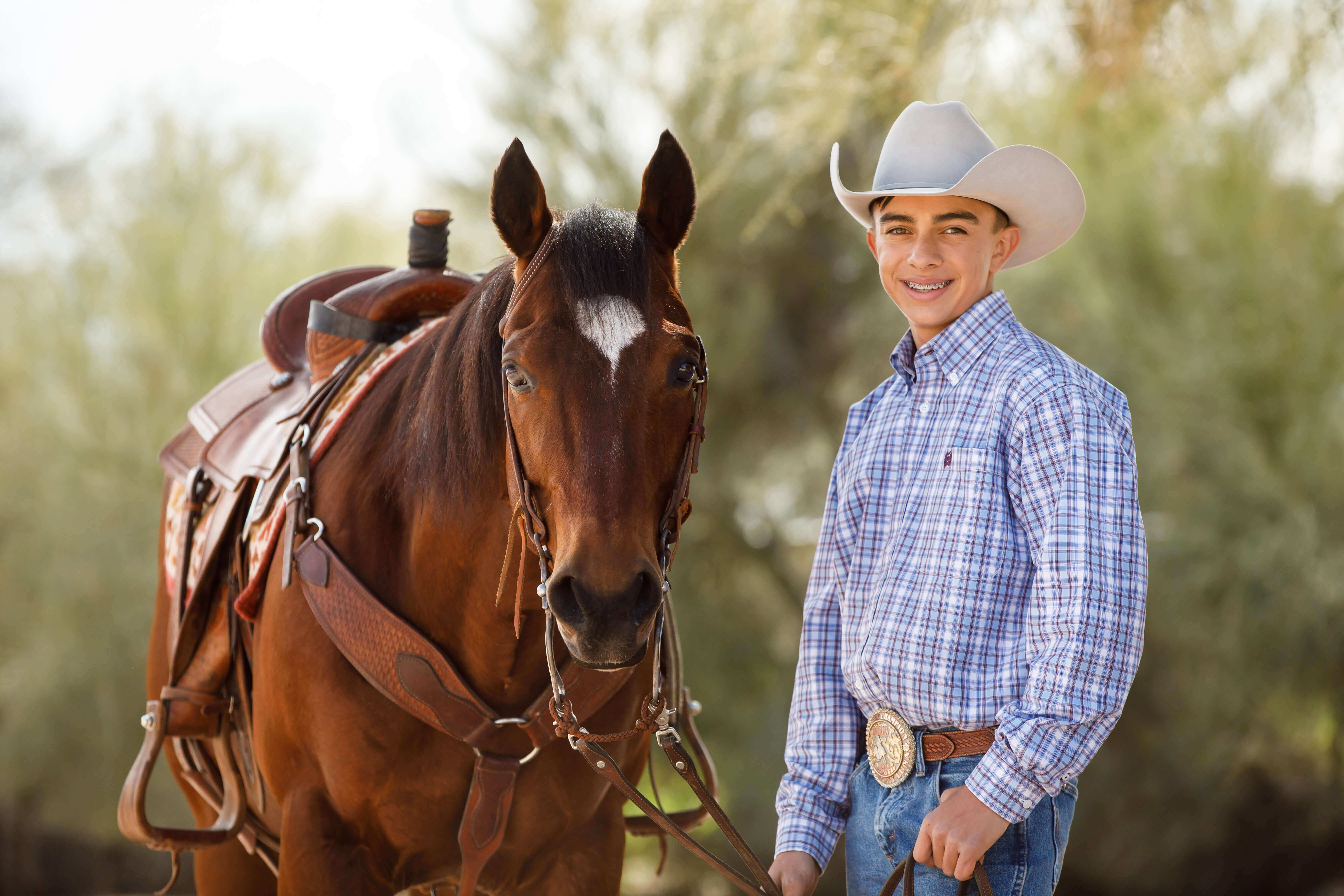 Some people just naturally look at home on a horse. Anthony Luna is one of those people. The 15-year-old from Flagstaff, Arizona, will soon be competing at the Zoetis AQHA Versatility Ranch Horse World Championship, but that is just the next step in his horsemanship journey.

Anthony's natural talent and ease in the saddle make sense when you realize that he was actually riding before he could walk. Wait, make that before he was even born.
His mother, Marissa Luna, rode throughout her pregnancy, right up until she was eight months along and it was just too cumbersome to even fit in the saddle.
Anthony was born on Halloween and five months later, when spring was finally arriving in northern Arizona, his mom was horseback again--this time with her five-month-old son nestled in the saddle in front of her.
"We went along like that for a few years, riding double in the saddle until he fell asleep on me," Marissa recalls. "When Anthony was three-and-a-half, I began lead line lessons with him. From the first moment I set him in his own saddle and stepped back to get a look, I was impressed. He just naturally had a good seat. Snickers, our dependable old Paint gelding, was truly the perfect teacher with lots of basic safety lessons and little trail rides.
"Anthony was six when he won his first buckle on Snickers at the Northern Arizona Horseman's Association (NAHA) gymkhana. They were not the fastest team, but they had good form and clean patterns. They went on to place first or second for year-end high point in the NAHA series three consecutive years."

"My mom was the one who inspired me to ride in the beginning," says Anthony. "She was always taking me trail riding and helping me practice; she was really a good trainer for me when I was young. Snickers was very good to me and carried me through many years of gymkhana. He was the one I learned how to compete on. I gained confidence at a young age."

It was a sad day for the Luna family--Anthony in particular--when Snickers had to be put down at the age of 28.
Challenging Mount

Anthony's next horse was CCC Dual Smoke (who goes by the name Sonny), a Peppy San Badger gelding they bought in 2010, who'd had a rocky start. The family found out years later that the horse had actually been given away three times before they got him because he was so hard to handle and had hurt people.
The little sorrel had been abused, making him extremely unpredictable on the ground. He was head shy and almost impossible to catch. Under saddle, however, Sonny's potential was obvious. "Once you got on him, he was a dream horse," says Anthony.
Over time, Sonny and Anthony developed a solid, trusting partnership, thanks to Anthony's calm demeanor and patient approach.

"Anthony took him back to square one and did all the training himself," says Marissa. "He had to teach him his leads, collection, and pretty much gave the horse a makeover. He was taking lessons on a trainer's mount and would then teach Sonny what he learned."

Over time, Sonny and Anthony developed a solid, trusting partnership, thanks to Anthony's calm demeanor and patient approach.
In 2014, Anthony qualified Sonny for 14 different events, ranging from western pleasure to hunter over fences, for Arizona 4H State, an accomplishment that most thought couldn't be done. Unfortunately, three days before the show, Anthony broke his ankle at wrestling practice and couldn't compete.
But a month later, his foot still in a cast, he and Sonny won a trail challenge, and that helped spark Anthony's desire to get into ranch horse versatility.
Let's Jump!
At the same time, Anthony decided to expand his training and started riding English, training with Debbie Howe, a cross country/ eventing trainer in Flagstaff.

"I got hooked on jumping, which led up to three-day eventing. I think riding English teaches you a lot about balance and posture," says Anthony. He and Sonny placed first in cross country, first in show jumping and second in dressage at the beginning level in 2015. In 2016, the duo took first in the Summer 1 Coconino County Horse Trials three-day event, beginner Novice division, against 14 riders of all ages.

"Debbie coached me for two years and made me a better rider in everything I do. She played a big part in me being the rider I am today," says Anthony. "Although Debbie is an eventing trainer, she coached me in all my disciplines and taught me to trust my horse more than I ever had. I plan to get more riding and lessons with her after the world show."

"It's hard to remember when I'm working with Anthony that he's a kid. He absorbs things like a sponge and is very intuitive. His brain is in his seat and his heart is huge," remarks Debbie.
Debbie saw many of the issues that Sonny had when Anthony started riding with her, and was impressed at how adept the young rider was at handling his sensitive horse. She also appreciated the teen's fearlessness and natural talent when it came to jumping a cross-country course.
"After a couple years of walking courses with Anthony, he already had in his head how his horse was going to think and how he needed to approach obstacles. This is a complicated sport and he's wise beyond his years. He's the calm, quiet, studied rider who's always paying attention to what needs doing," she adds.
"Anthony is any trainer's dream, but it's more than that. He's got horsemanship skills that not many riders have. To me, that's primary. If you don't have horsemanship, you're hard-pressed to be a rider. A lot of people ride, but don't have empathy or understanding about what their horse needs or wants."
Working Hard

Because Anthony is home-schooled, he is able to tailor his schedule around riding and studies.

In 2016, he joined an IEA reining and horsemanship team and competes with many other teams in Arizona and Southwestern states. For the past two years, he's also had a three-day-a-week apprenticeship at Anchor Cross Ranch in Camp Verde, Arizona, with trainer Bob Grant.

"My biggest role models are Bob Grant, Al Dunning, and Trapper Rodgers," says Anthony. "Bob was the one who got me started in ranch horse versatility. He taught me how to cut, rein, rope, and all around ride better. One of the horses he let me ride is named Khountry Boy, who I learned how to rein on. Bob taught me how to slide, spin, and taught me better riding techniques. He also lets me ride a cutting horse named Tommy's Blue Boon. Bob taught me how to cut on him and soon enough let me take him to my first cutting show. I cannot thank Bob enough for letting me ride and learn with him. In addition to helping me prepare Calvin for the world show, Bob has taught me life skills--everything from mechanic work to rounding up lost cattle. He has been like a second dad to me."

Anthony admires the riding skills of Trapper Rodgers, a trainer whose Rogers Performance Horses is located in Desert Hills, Arizona, and who specializes in cutting, cowhorse, and reining.

"Trapper has taught me how to get more out of my horse," says Anthony, who has ridden with Rodgers a handful of times. "He always praises them and communicates with them when they do the right thing."

Before the family makes the long haul to Houston, Anthony will be spending a week with Al Dunning at his ranch.

"Al is an excellent teacher. I know I will get a lot of good advice out of that time," says Anthony. "Although I have only ridden with Al Dunning a few times up to now, he has taught me how to communicate with my horse better, but mostly inspired me to be like him."

Calvin Comes Into the Picture

When Anthony competes at the Zoetis AQHA Versatility Ranch Horse World Championship, he'll be riding Calvin (short for Calboys Hometown), a 14-year-old Quarter Horse gelding the Lunas bought in October 2016 from a friend, Bill Rahr. It was on Calvin that Anthony won the AQHA youth ranch horse versatility in Corning, California, last fall, which qualified them for the World show this March. Anthony and Calvin also won the youth Western States Versatility Ranch Horse versatility finals in November 2016.

Sonny is currently undergoing rehab to recover from soreness he developed late last year, so Anthony's current riding is all about Calvin.


"Calvin was trained as a cutter in his early days and was trained to be a cow horse in ranch horse versatility. He's really laid-back and sweet, a very in-your-pocket kind of horse. He is very lovable and you can do anything with him. He has taught me a lot and made me a better rider in the short time I have had him. He knows cows, but you have to push him, so that's made me a little more of an aggressive rider in a good way."


"I'm kind of nervous, but very excited about going to the (Zoetis AQHA Versatility Ranch Horse) World Championship. I feel like I'm ready. I like the adrenaline of competition, and for me, cutting and cow horse are probably the most exciting versatility classes," says Anthony, who is the first youth from Arizona to qualify for VRH World.


He's been riding five and six days a week in preparation for the event. A good part of that is in the arena, as he and Calvin practice their trail and cow work, but they also like to venture out.
"About half the time, we get out on the trail and go for long trots, a lot of that up and down hills," notes Anthony. "It's fun for me and good for the horses, too."


Young Prospect

Anthony is also excited for the near future, thanks to the yearling filly he now owns through the AQHA's Young Horse Development Program contest. Accepted AQHYA members receive a nominated weanling from an AQHA Ranching Heritage Breeder. Those members later can showcase their skills at designated events and can earn scholarships and prizes.

Winners were chosen based on a combination of record keeping, essays, and an in-hand trail competition. Anthony came in fourth in the competition out of 25 other youth nationwide, and he's now the proud owner of the filly with Blue Valentine bloodlines from the O RO Ranch in Prescott, Arizona. The little blue roan filly is registered as RO Bluechip Dividend, but goes by the nickname Hazel.

"She was just a weanling when I got her. She's a yearling now and will be two in June; I'm excited to see what she's like when I start riding her then," says Anthony, who is doing all the filly's training himself.

"She's kind and sweet; you can pretty much do anything with her. I've led her around cows and ponied her on the trail. She has ranch and roping in her breeding, so I'd like to make her into a cow horse, but would also like to ride her English, so I hope she'll be an all-around horse."
Hazel is currently stabled at Bob Grant's ranch, but Anthony will be bringing her home after he returns from the Zoetis AQHA Versatility Ranch Horse World Championship and has more time to devote to her training.

Looking Ahead
It would be hard to find a more ambitious, well-rounded teenager than Anthony Luna.
In addition to his riding endeavors, he also enjoys hunting year-round with his father, who is a firefighter/paramedic. Anthony played Little League baseball for 11 years, although he recently relinquished that sport due to the demands of riding. He likes to ride dirt bikes and occasionally races locally, but admits you can't have the connection with a dirt bike that you can with a horse.
"There's a special connection with each horse. It's really fun to get to know different horses. You learn their quirks and figure out which tools in your tool box you need to work with and train each one," he notes.
Not surprisingly, Anthony is planning for a future that revolves around horses.
"I want to go to college and am thinking I might want to be an equine veterinarian. I would really like to make a career out of horses," says Anthony.
Looking at all this 15-year-old freshman has already accomplished, it's not hard to believe he'll make that happen, too.
(Stay tuned....we'll be sharing Anthony's experiences at the Zoetis AQHA Versatility Ranch Horse World Championship shortly after he returns from Houston.)
Life with Horses Newsletter
Sign up now to stay connected with free helpful horse care tips, product updates, and special offers.