Kevin Oliver: Making the Most of His Texas Cowboy Pedigree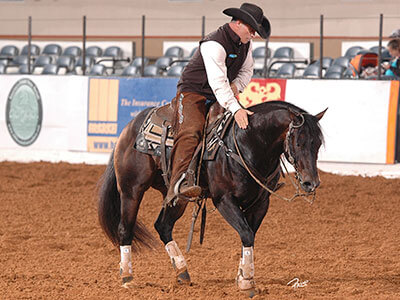 If life experience is the best teacher, Kevin Oliver has been a model student.
This fifth-generation Texan is a lifelong horseman whose cowboy roots have provided a firm foundation for his work as a successful trainer and top competitor.
An AQHA Professional Horseman, Oliver is also a sponsored rider and adviser to Farnam Companies, Inc. We caught up with him at his ranch in Canyon, Texas, to find out how the twists and turns of life have brought him to this point and how the cowboy influence is apparent in his training philosophy.
School of Hard Work
"Back when I was cowboying, I spent 14 to 16 hours a day on horseback. It was a lot of work for very low pay. You had to love it, and you had to give up everything for it," Oliver reflects.
Without a doubt, Oliver loved it.
Determined to use those cowboy skills to further himself in life, Oliver enrolled at West Texas State University, where he majored in Animal Science and Ranch Management, graduating in 1990. It wasn't an easy journey, nor was it completed in the standard four years, but Oliver persevered, learning far more than just book studies during that time.
"It took me eight years to get through school because I had to put myself through. There were times I showed up to class covered in cow manure, blood and medicine. I probably turned some heads with that," laughs Oliver.
"When I started college, I was known as an 'outside cowboy.' Cattlemen would send me cattle if I could find pasture for them, so I'd find a farmer with wheat or grass pasture available and I was the middleman. The cattlemen paid me $3 a head each month and I paid the landowners, putting myself through college with what was left. I got real good at identifying sick cattle and conditions; I spent my time roping and doctoring those cattle."
During his college years, Oliver also did day work on area ranches whenever extra hands were needed for gathering cattle and branding.
"We'd gather cattle, cut out the calves, rope and drag them to the fire for branding," he recalls. "Back then, they called us 'day trash,' but you actually got paid more doing 'day work' than ranch cowboys got paid, because they were on salary."
The part of Texas that Oliver calls home is serious ranching country. Known as the "Beef Capital of the World," thanks to the many feed yards in the area, there are literally millions of cattle.
"We actually have more cattle than humans here," says Oliver.
He took advantage of this, working for several years as a feedlot cowboy at the tail end of his college years. During that time, he had numerous owners sending him colts to ride. Oliver put them to work as his mounts in the feed yards.
"When I was working the feed yards during the late '80s, the racetrack market had fallen through the floor. There were a lot of racehorses coming off the track that owners wanted to get ridden so they could try to sell them and recoup at least some of their money," he says. "So, I took those colts, mostly quarter horses straight off the track, and rode them in the feedlots. I was riding through as many as 10,000 head of cattle each day. It was long hours, but those colts got a lot of handle on them and started really looking at a cow. I went through at least a couple hundred gates a day on horseback. It would take a few days to get those colts to understand how to handle a gate."
Practical Training
Oliver has come a long way since those grueling days of gritty, dusty work in the Texas Panhandle feedlots. But he's never forgotten all he learned, and he continues to rely on those invaluable early lessons in his current work as a trainer of performance horses at his Snaffle Bit Quarter Horses.
Oliver started the operation in 1994 and typically has 10 to 15 horses going at all times — everything from green colts to finished show horses. He is selective in the horses he accepts and chooses to concentrate on show horses. These are usually horses he can ride in open competition, and then send home to the owner who can later show the horse in non-pro classes.
"I got an inside route to knowledge," laughs Oliver, referring to his years of cowboying. "I'm not a clinician. I make my living training horses and I have learned how to train them by making my living working on horseback.
"A lot of cowboys — myself included — look at the horse as a tool to get the job done. We understand he's a living, breathing animal and we care for him, but that's because the horse is part of the way we make a living. It's similar to the way a carpenter values his hammer because it helps him make a living. When I'm training a horse, I'm working him, because I need to find out whether that horse is bold and has heart — or not. It's the hardworking, 'using' horse that will eventually shine in the show pen. This is something I really emphasize with my students."
Since launching his training operation over 20 years ago, Oliver has applied his hard-won knowledge to every horse that comes through his gates.
"The horse won't understand what we're doing until you apply it to actual work. You can do rollback after rollback, but when you put a cow in the pen and start doing rollbacks with the cow, the horse puts two and two together, and realizes why we're doing it," he explains. "Just about everything I do in my training program has true working application. Cutting traces back to sorting calves off the mama cows, and in trail, opening gates is something a ranch horse has to do multiple times a day."
"Kevin Oliver is a true horseman, we are very pleased to have partnered with him." Mark Chenoweth, Farnam
Oliver still lives in the area where he was raised — the spectacularly beautiful and rugged Palo Duro Canyon. Second only in size to Arizona's Grand Canyon, this sprawling canyon system is some 70 miles long and 20 miles wide. Known as the "Grand Canyon of Texas," this is the country where Oliver rides on a regular basis.
"I take colts out here and ride through the creeks, between the trees, up and down trails with thousand-foot drop-offs. It gets these colts paying attention to where they're putting their feet. They have to think and make decisions," he notes. "We have feral hogs, deer and lots of other wildlife, so the colts are constantly seeing these things and getting scared. Once I get them desensitized out in the canyon, they're great in the show pen. And all of my colts — even if they're reiners — know about how to handle a rope."
When it comes to training horses, one thing Oliver has learned is to focus on the positive and downplay the negative.
"I've ridden hundreds of colts and I've found, if you make something scary, the horse becomes more scared. If you don't make a big deal out of something, then it's not a big deal to the horse. If there's a plastic bag stuck on a barbed wire fence and blowing in the wind, I just ignore it and the horse stops paying attention to it. I want the horse to know he can trust me. If you ride up to the bag and make a big deal of showing it to the horse, then he thinks it's a big deal."
While Oliver considers himself primarily a trainer of horses, he does give some lessons and is especially pleased to work with international students as a participating trainer in Communicating for Agriculture Exchange Programs (CAEP). This worldwide program allows young adults from around the world to learn with respected trainers in a paid agricultural exchange program.
"We've been doing this a little more than 10 years and we take in one intern a year. We teach them how to finish a horse and how to get them in the show pen," says Oliver. "The interns are usually between the ages of 20 to 26 and have to have some previous experience with horses. They come on a visa, live here with my wife, Jenne, and me in our ranch house, and are considered family while they're here.
"I show them my style of breaking horses, which includes lots of ground driving, stopping and backing up. This really desensitizes the horses before we ever step up on them. I allow the interns to ride some of my top horses, so they know what the goal is. Allowing them to get on a highly accomplished horse lets them know what a really good horse is supposed to feel like. Riding is about 95 percent feel and 5 percent knowledge. You can read every book in the world about riding, but not know how to ride a horse. You have to have a lot of feel to progress and become a better rider and trainer."
"That's basically how I learned," adds Oliver, who makes a point of giving his interns the same opportunities he had when starting out. "When I got into showing, I was hired by a big Paint breeding operation that's no longer in business. I got to ride horses in all kinds of disciplines. I messed up, but I also got to feel the end goal by riding these horses.
"I love to teach people who are hungry to learn and we've had some really good interns come through this CAEP program," he notes. "It's a huge accomplishment for them to come learn from an American trainer. It's like they've paid their dues by coming here to do this. Then they can go home to Europe, hang up their shingle and start training horses on their own."
Branching into Versatility Ranch Horse
Through the years, Oliver has trained mostly reiners and reined cow horses, but since 2004, he's added an emphasis on Versatility Ranch Horse (VRH), an increasingly popular competition.
"Versatility Ranch Horse used to be a stand-alone show by itself, but now it's being incorporated as different classes into regular AQHA breed shows," says Oliver. "In recent years, it was kind of on the decline because it would take all day for just a dozen or so entries to compete, so Versatility Ranch Horse has been revamped to take in more entries. I think now it's just going to get better."
Initially, many of the riders competing in VRH were ranch cowboys. This only made sense as the type of events included in the competition — cutting, roping, riding through obstacles and such — were part of their regular horseback chores.
American Quarter Horse Association (AQHA) rule changes, as of January 1, 2015, are intended to make VRH appealing to more exhibitors. This means you'll find a much wider range of contestants, something Oliver is happy to see.
"Before, you always had to compete in all six VRH events, but because it can be hard for people who aren't on a ranch to have access to cows for practicing, not everybody could do the cattle events," he notes. "Now, the competition has changed and riders can enter any number of the VRH classes."
Oliver has already seen the rule change bring in more horse owners. He's also excited to see a number of different VRH associations in different states offering more and more opportunities for competition. One such organization is Stock Horse of Texas (SHOT).
"These grassroots organizations are trying to get more people showing. SHOT will run through over 400 entries in a day," he notes. "A lot of people just want to exhibit their horse and might be intimidated to enter a big breed show because they don't have a fancy, expensive horse. The thing about VRH competition is that it's for a 'using' horse, not an expensive show horse."
Oliver, who is also an AQHA specialty judge in VRH, conducted four clinics on various aspects of VRH competition at Equine Affaire held April 9–12, 2015, in Columbus, Ohio.
Continuing to Compete
A decade ago, Oliver, a top competitor, was entering 130-plus shows a year. These days, he's still busy in the show ring, but aims to be home more and on the road less.
"Today I try to stay at shows within 500 miles of home," he says. "I can get all the horses I need to get qualified for world and championship shows this way."
And he does all this on horses he doesn't own.
"I try not to own many horses," he says with a grin. "I have plenty to ride without owning them. My wife has a horse; we own a few broodmares and raise a few babies, which she helps me with, but I usually don't own a riding horse. The majority of horses I ride and show are for clients."
Looking Ahead
In 2014, Oliver officially became a sponsored rider and adviser to Farnam.
"I have used Farnam products my entire life. As a horse trainer, I started realizing how many of the products I use every day are made by Farnam," says Oliver. "When the company contacted me about sponsoring me, I was comfortable with it because I was so familiar with their products and I really liked using them. It wasn't like I started using Farnam products because they were sponsoring me, so it's a comfortable fit."
"Kevin Oliver is a true horseman, and we are very pleased to have partnered with him," says Mark Chenoweth, general manager of Farnam products. "He is a huge asset to the team and brings an honest, open industry perspective to the work we do together. He is a highly accomplished rider, trainer and top competitor with a lot of heart for the horse. Kevin is a great fit for Farnam."
Hard work is as natural as breathing to Oliver. But today, when he isn't on a horse, doing chores on his ranch or working with an intern, he's finally learning to take time for something more. He says he didn't even realize he had no real interests outside work until one of his interns a few years back made the observation that Oliver had no "toys" and asked why not.
"Since then I bought a Harley for myself and one for Jenne, and now we take trips together," says Oliver, who appreciates this different form of horsepower. "I used to work all the time and never took a vacation, but I've learned we need to have some extracurricular activities."
Oliver remains grateful that he's built his own business over the decades.
"When I was in college, I had a chance to go ride for a Hall of Fame reining trainer," he recalls. "I ended up turning down that opportunity, because I was already my own boss and I also didn't want to leave the cowboy environment of working cattle. At the time, I was taking care of about 4,500 head of outside cattle, and managing my own time and work. The thought of going to work for someone — even a Hall of Famer — was not appealing.
"I look back at different opportunities I've had over the years and I sometimes regret not taking them, but I really learned so much more doing it on my own. Most of my life I've spent working for myself. All I've done has built a lot of character and I'm grateful for that. I did take the hard way to get to where I am today, but I'm highly appreciative of it."
Life with Horses Newsletter
Sign up now to stay connected with free helpful horse care tips, product updates, and special offers.