A Guide to Cleaning and Care for Leather Horse Tack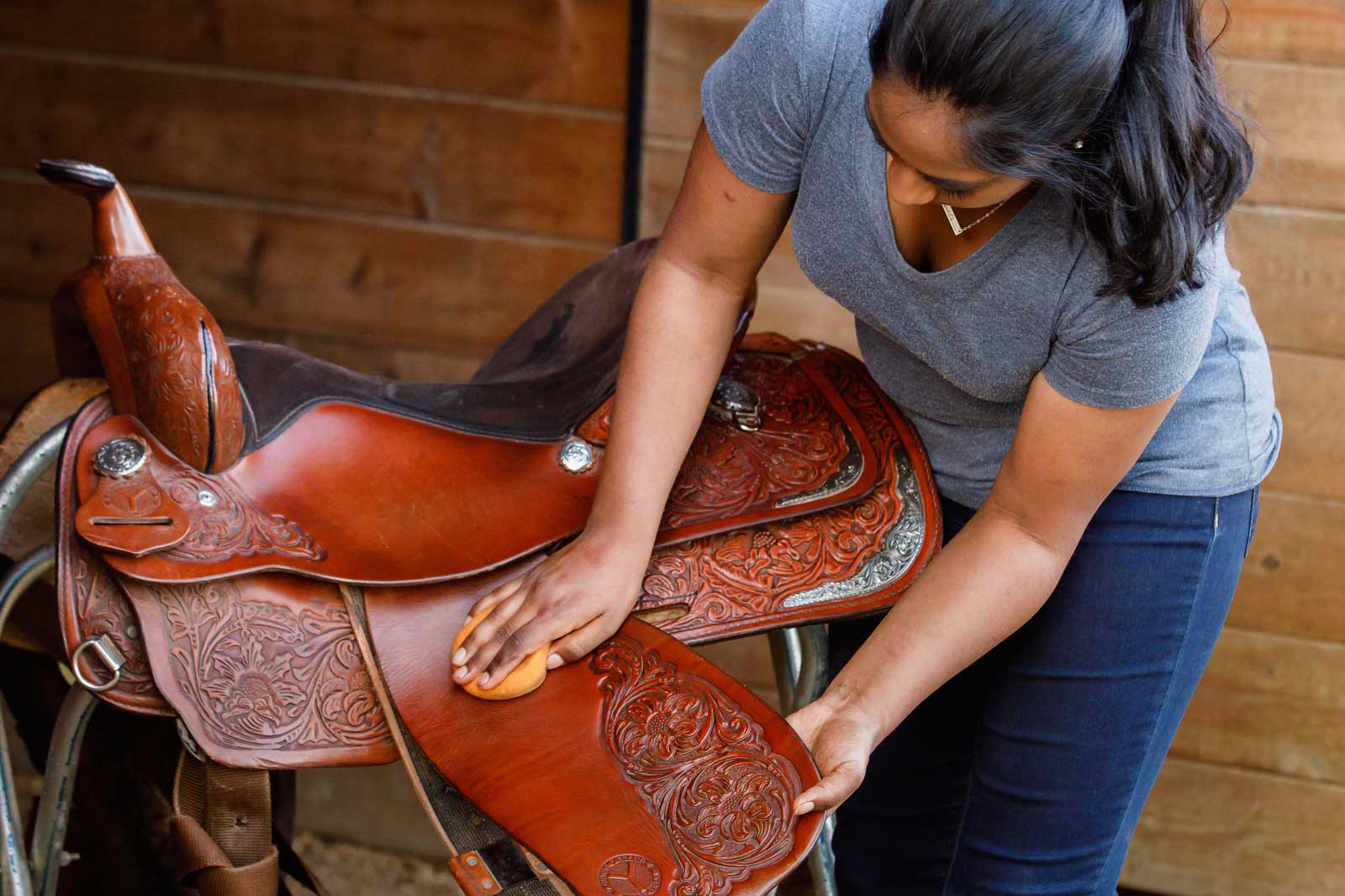 You pay meticulous attention to your horse's care, including grooming, exercise and overall health and wellness. It only makes sense that you give that kind of TLC to your horse's leather tack.
While natural darkening preserves it, routine cleaning and conditioning your leather horse tack is still necessary for proper maintenance. Regular use of leather cleaners will help keep tack soft and supple. And good leather treatment preserves its appearance and keeps it safe to use.
With intentional care, a quality, well-made saddle can last a lifetime.
Wipe Down Your Saddle Daily
Any good leather care routine begins with understanding that sweat is leather's enemy. Sweat stains and draws out natural oils from the leather. And because it's salty, sweat can attract rodents that want to chew on it.
To prevent sweat from damaging your leather saddle, use a clean microfiber cloth or piece of dry sheepskin to wipe down your tack to remove sweat and surface dirt after each ride.
Pro Tip: Never place a sweat-dampened blanket or pad on top of your saddle after riding. Hang it separately so it can air out and dry away from the saddle.
Frequency of Cleaning Your Horse's Tack
"It's probably more realistic to get in a routine of cleaning your tack once a week instead of cleaning it every time you ride," advises Tina Anderson, Director of New Product Strategy and Development at Farnam, and also a Quarter Horse breeder and AQHA judge.
Cleaning tack once a week and conditioning it every month or two will keep it in top condition. But how often you need to clean it thoroughly depends on how much you ride and how dirty your tack gets.
Proper leather care is a two-step process that involves both cleaning and conditioning .
"The average rider should do a deep cleaning every couple of months," she says. "If you're a trainer using your tack on six to 10 horses a day, you may want to deep clean every week or two."
Before you start cleaning, wipe down the tack or use a shop vacuum to remove loose dirt, hair and dust, so you aren't grinding them into the leather as you clean it.
Take apart every buckle and strap, paying close attention to billet straps, rigging, fenders, stirrup leathers and latigo tie straps.
Leather Cleaning
When cleaning your tack every week, choose a product that's easy to use and gentle to use after every ride. The Leather New Saddle Soap from Farnam comes in
liquid
or
foam
options. Both are designed for fast and easy application. And you don't need to add water, which can discolor the leather. They are also ideal because they'll keep the leather supple with regular use.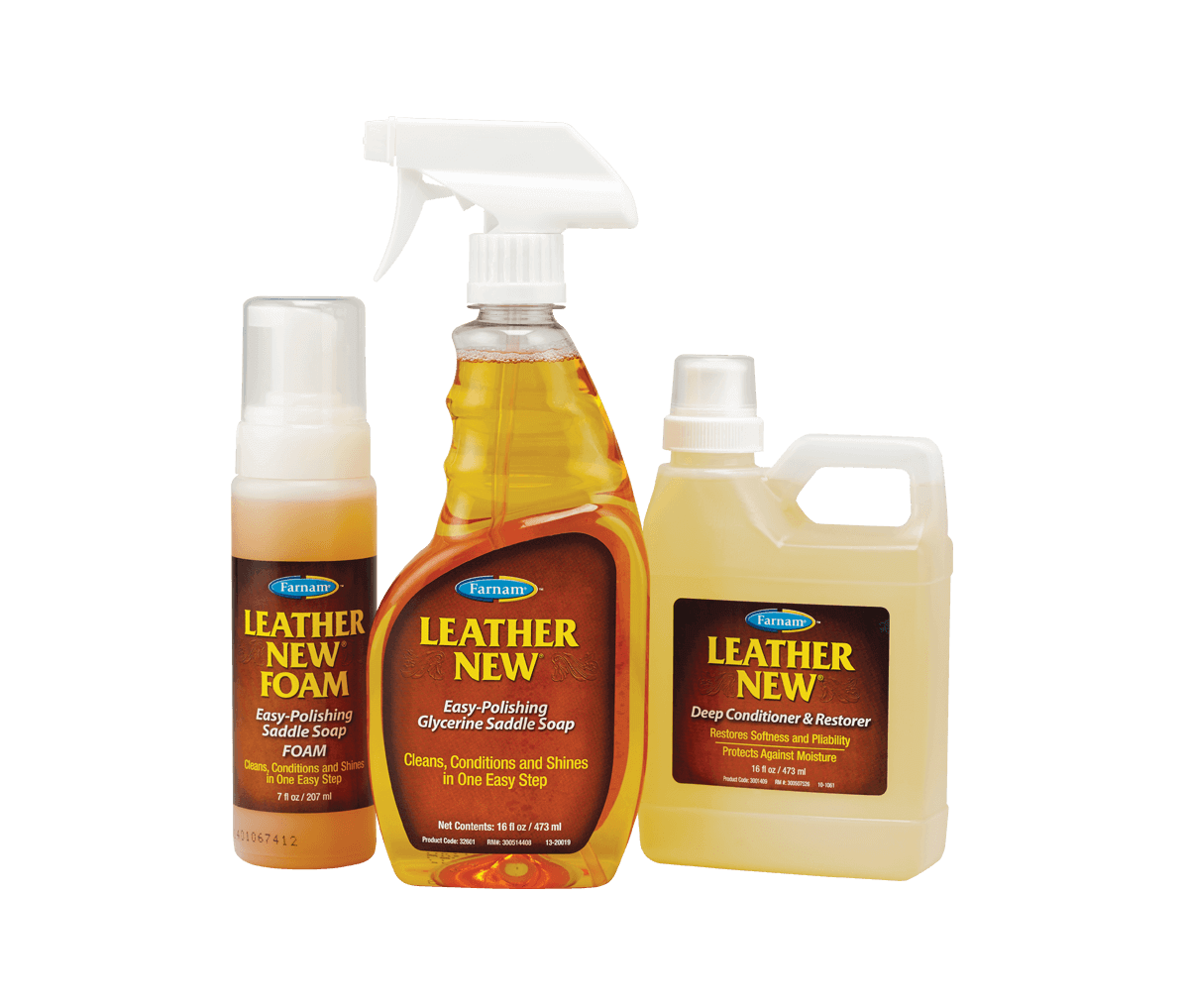 Pro Tip:
The foam cleaner is ideal for quick on-the-go use at events or to keep handy in your trailer.
After every ride, use a clean microfiber cloth or piece of dry sheepskin and wipe down your tack to remove sweat and surface dirt.
To clean your tack, simply apply the cleaner with a cloth or sponge according to the label directions. Rub the cleaner well into the leather, especially in crevices, carvings and around stitching.
While you clean, perform a basic safety check. Inspect the leather for damage and wear, noticing any thin or worn places, cracks and torn stitching. Pay close attention to straps and check for loose or worn screws. Take your tack in for repair if needed.
Leather Conditioning
You won't need to condition your tack more than once or twice a month — even if it's used heavily and cleaned regularly.
You'll know it's time to condition the leather when you notice how quickly it takes in the cleaner during your weekly cleanings. If the leather absorbs the cleaner instantly, the leather is dry and should be conditioned after cleaning.
Make sure the saddle is thoroughly clean and dry before applying the leather conditioner with a soft cloth. Finish by buffing the leather with a separate clean, dry cloth to remove any excess conditioner. Anderson recommends using a deep conditioning product, like the Leather New Deep Conditioner & Restorer from Farnam. The quality oils in the conditioner will be absorbed as needed by the leather.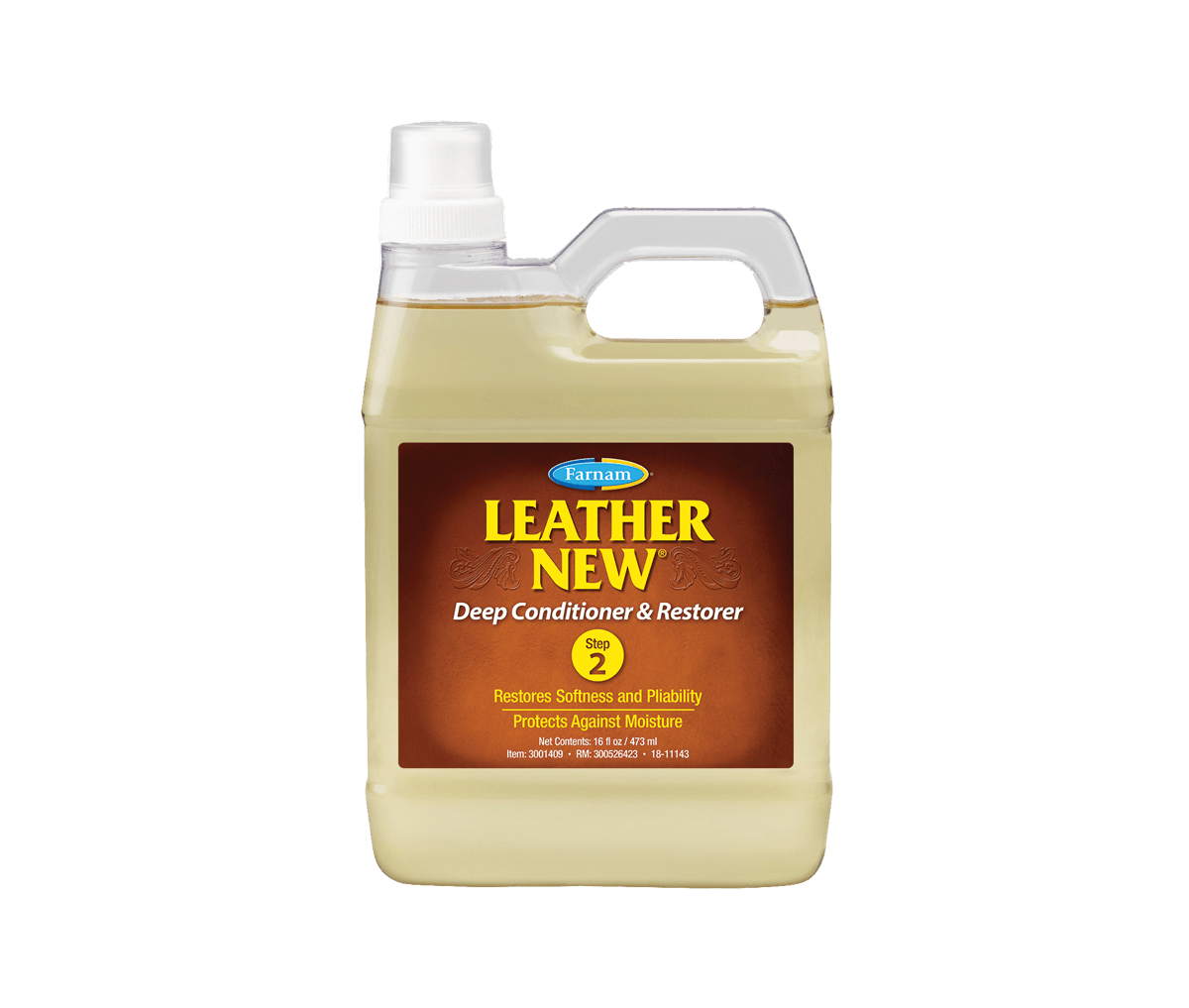 Use the Right Products
Using products specifically meant for cleaning and conditioning leather tack will preserve and lengthen its life.
Avoid using products that seal the pores of leather and keep it from breathing. This includes silicones, waxes, petroleum distillate or solvents.
Animal fat oils, like mink, are not recommended. Not only do they darken leather, but they can also make it greasy, attract dust and cause stitching to rot.
Pro Tip: If you prefer a one-step process, try Leather New Total Care from Farnam. Because it cleans and conditions at the same time, you can skip the usual two-step process.
Storing Leather Tack
Storage is an important part of maintaining your leather properly. Make sure your tack has air dried after being thoroughly cleaned and conditioned before storing it.
A climate-controlled room is the best environment for tack storage — especially in extremely hot or cold temperatures. If there are windows in the room, don't place leather tack where it's exposed to direct sunlight. Those UV rays can dry out, damage and change its color.
Leather needs to "breathe," so don't store it in an airtight container or cover it with plastic. Anderson recommends storing saddles in a cool, dry place and in a natural fiber saddle bag, which has an air vent.
Even when you use a saddle regularly, keeping it in a saddle bag will protect it from dust between rides.
Saddles tend to take the shape of whatever they're placed on, so store them on forms that approximate the shape of a horse.
Maintaining Color
Regardless if your leather is light or dark, you want to keep your leather as close to the original color as possible. Some products can darken leather, so check the label before using and test a small, inconspicuous area before applying it to the whole piece of tack. Choose a product like Leather New Total Care, which is a 2-in-1 product that both cleans and conditions while it preserves color.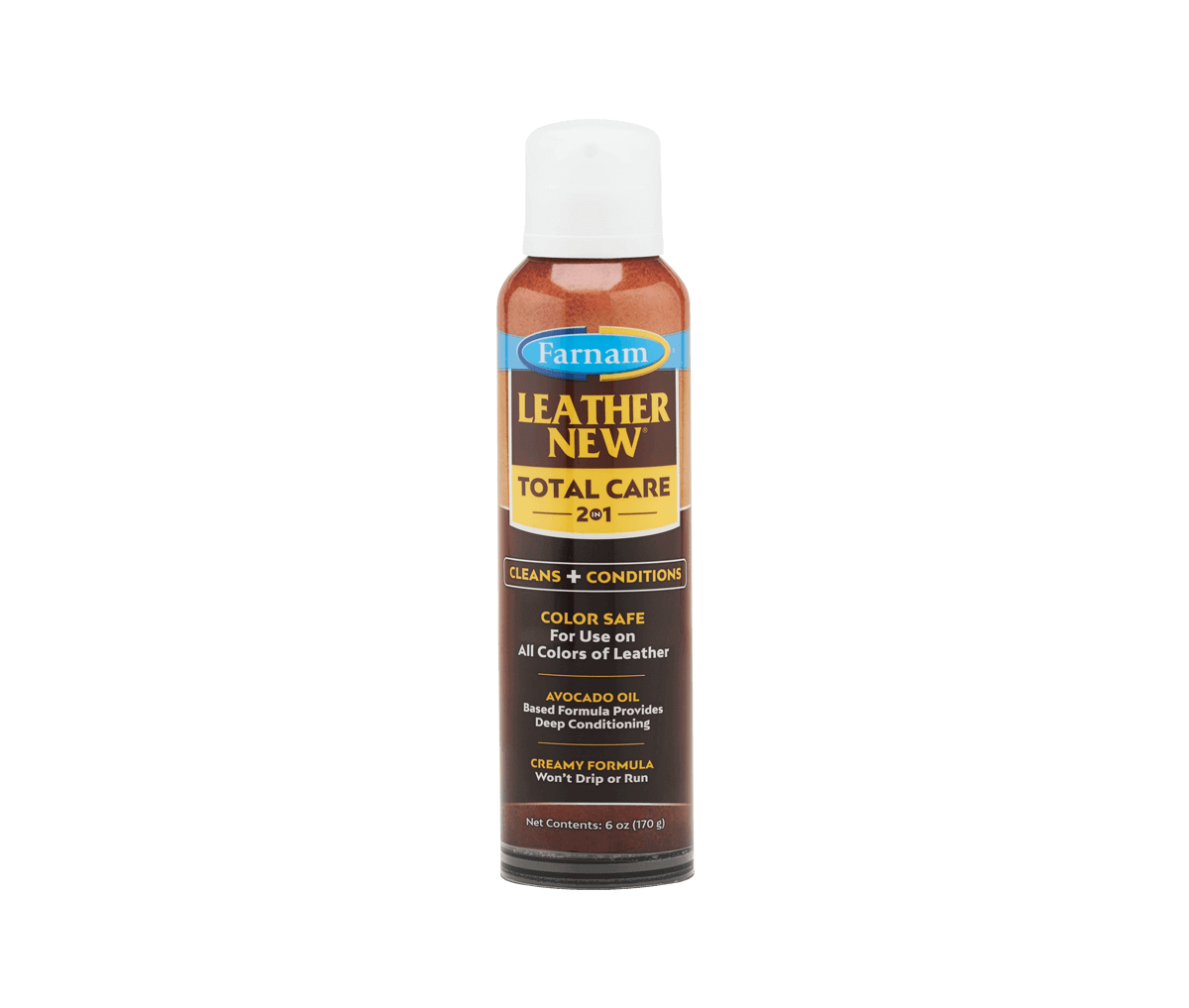 "The color issue is a big one, and Leather New Total Care keeps leather color true," says Anderson. "It has no silicone, waxes or petroleum distillates. It easily cleans all colors of tack without stripping color or darkening the leather."
To help keep the original color:
Wipe down the leather immediately after use to remove sweat and body oils.
Regularly clean leather.
Avoid prolonged exposure to sunlight.
Don't over-saturate leather with conditioner.
Avoid using waxes and products made from animal fat.
What to Do if Your Leather Gets Wet
It happens to all of us at some point. You don't make it back to shelter before getting caught in a downpour, and your tack gets soaked in the rain. "Don't panic. You haven't ruined your leather," Anderson assures. "That's why saddles are made out of leather. It's such a durable product, and it can get wet."
Once you're safely under cover, take a dry towel and wipe down the leather to remove excess moisture. Then put it on a saddle stand, or if it's your bridle, hang it. Let the tack air dry. Resist the urge to put it put in the sun or use a heater in hopes of speeding up the drying process. Instead of remaining soft and supple, the leather will become brittle and may crack, ending the life of your gorgeous saddle.
Avoid using any leather care product on wet or damp leather. Let it dry completely first (about one to two days). Once the tack is completely dry, clean it with leather cleaner, then condition it well. Anderson says this last step is vital, no matter when you last conditioned the tack.
Prevent Mold on Leather
In warm, humid weather, you can end up with mold on leather when it's not cleaned frequently. If tack develops any mold (typically showing up as green spots), use a good leather cleaner to remove them.
Pro Tip: "If you aren't going to be using tack for a while, don't leave it in your horse trailer, which gets hot, humid and dusty," says Anderson.
Leather Care Beyond Tack
Leather New Total Care is an excellent choice for cleaning and conditioning other leather goods, like leather boots.
"I keep a bottle in the house as well as the barn. I use it on boots, purses, leather furniture, leather car seats and more," Anderson notes. "It's avocado oil-based, and the delivery system uses forced air, so it pumps out easily and is very creamy."
Maintaining your leather tack properly takes a bit of time, but it's a relatively straightforward routine that keeps it beautiful for years to come.
Farnam and Leather New Total Care are trademarks of Farnam Companies, Inc.
Life with Horses Newsletter
Sign up now to stay connected with free helpful horse care tips, product updates, and special offers.