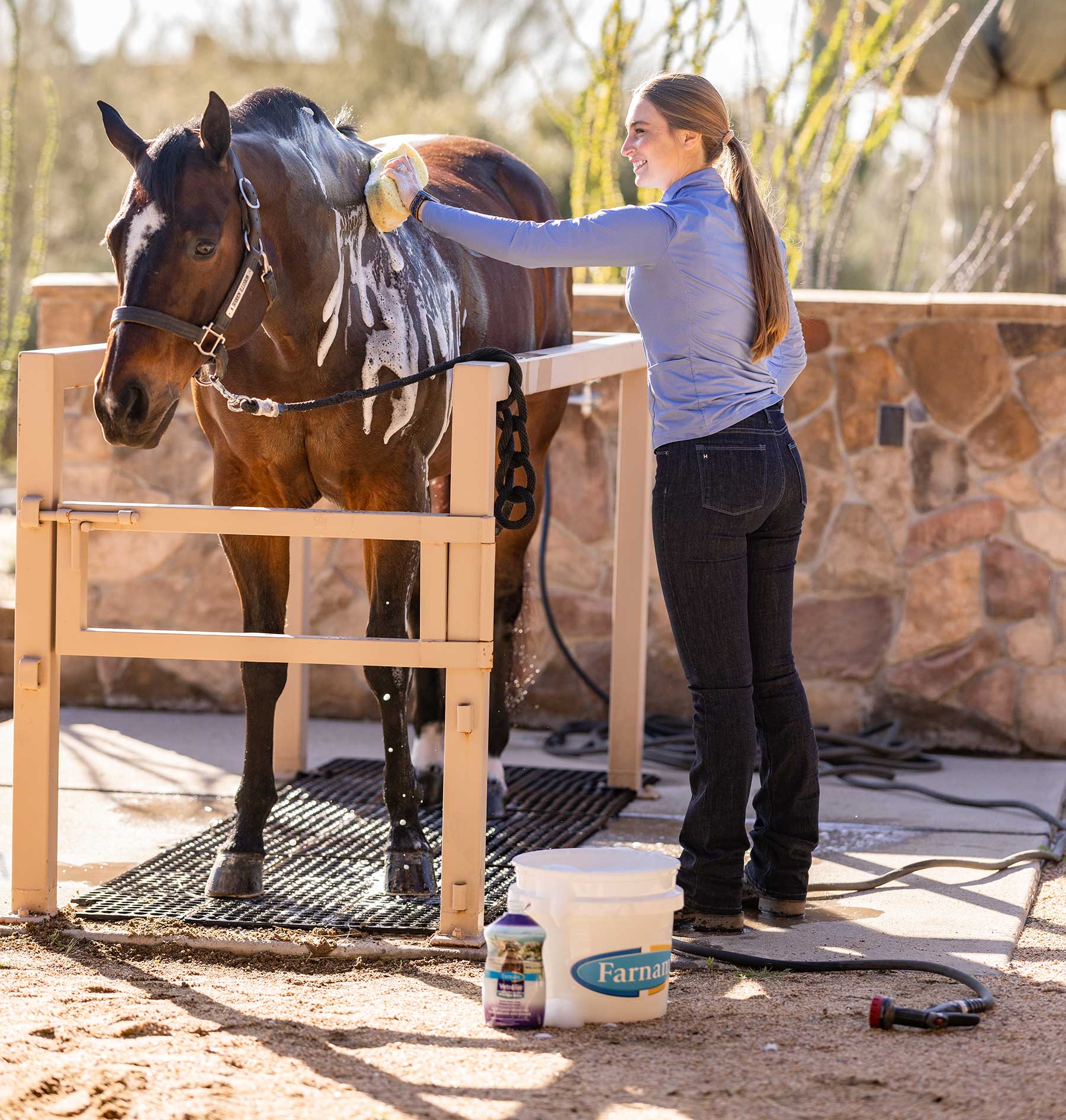 Whether it's to make your horse look great for a show, stand out on the trail, or just keep him nice and clean, bathing your horse is a necessary task. Let's look at how to bathe your horse, the handy tools you need, and a couple of tips to make the job easy. We'll also look at products to apply during and after the bath to keep your horse looking his best.
First, Tackle the Obvious
Set you and your horse up for a successful bath with a little prep work. Before you turn the water on, get out your grooming kit and remove the major issues. If your horse has come straight from the pasture, this could include sand, twigs in a mane, or grass bits. Run your brushes over your horse's body to remove dust and debris. The more dirt you can coax out of his coat now, the better. You can work on manure stains too, but don't give too much effort on those — let the shampoo do its thing later.
(Note: We assume your horse is familiar with being bathed. If not, you need to train him for this activity in advance. Safety first!)
Check the Water Temperature
Do you need warm water to bathe your horse? Not necessarily. However, it will make the process more comfortable for him and everyone involved in the job. Despite best efforts, it seems like the human always gets an unwanted bath. Some stables have the luxury of heated water, and if yours does, by all means, use it! Your horse may stand more contentedly if you use warm water.
Warm water may also open up your options on timing — you may be able to bathe your horse on a slightly colder day. However, you don't want to rely too much on the warm water; your horse will cool off quickly as soon as the water stops flowing. If you don't have a warm water option for your hose, but you'd like to bathe your horse with warm water, you can always fill a large bucket with hot water from the house and use it for rinsing.
Start the Bath
Now it's time to get out the hose. Ideally, this would take place in a dedicated wash stall or a stall with safe concrete footing (maybe covered with rubber mats) that drains properly. This way, you won't create mud that will immediately stain the very legs you're trying to clean.
If a wash stall isn't available, try to bathe your horse on ground slightly higher than the surrounding area to take advantage of the natural run-off and keep your horse from standing in water. Be sure to use a hose nozzle designed for basic garden or yard work. These usually have multiple options to control the shape of the spray, and there's often a shower setting that works well for horse bathing. This setting creates a wide, gentle flow of water.
Start by getting your horse's entire body wet, avoiding his face. It's a good plan to begin by wetting his hooves and legs, then gently work your way up to his body as he gets used to the feeling of the water. (Starting with the hooves and legs is a good way to get your horse used to the sensation and temperature of the water before moving to their body, which can be startling.)
Now Add Shampoo
Just spraying your horse with the shower setting on the hose likely took off a good deal of surface dust and dirt, and he's looking good already just because he's wet. But don't be fooled! Now's the time to use an equine-safe shampoo to deep clean his coat.
Just like you have many options when choosing your shampoo, you have options for your horse, depending on their needs. Consider Farnam Vetrolin Bath if your horse needs a conditioning shampoo or Vetrolin Wonder Blue if he needs a deep-cleaning shampoo for an extra-muddy coat (every barn has one of those!). And you don't always need to use the same shampoo on his entire coat. For example, Vetrolin White 'N Brite shampoo is handy for whitening stockings and other white markings.
With your horse thoroughly wet, mix a couple of gallons of water in a bucket with a couple of ounces of shampoo. (Follow the directions on the bottle for specific instructions.) Apply the suds with a big sponge to generously lather up your horse's coat, starting at the poll and working down. (You don't want to pour shampoo directly onto your horse's body; this can lead to irritation and dry skin.) Don't forget to shampoo his mane!
Tip: Take care when working around the legs. Some horses may stamp their hooves when they feel water dripping off their bodies. And to wash the tail, gently dunk it right into the soapy bucket if he's not too fidgety.
Rinse
Now it's time to rinse your horse and thoroughly remove all the shampoo suds. Use the hose to gently spray the soap away from the head and down, starting at your horse's neck and working your way toward the tail. You can use your hand, a bath mitt, or even a brush to help wash away all the soap (and, hopefully, a lot of dirt and dandruff). Don't stop until all the soap has vanished and the water runs clear.
Clean the Face
Finally, put your hose down and gently clean your horse's face with a damp cloth or moist sponge, avoiding the eyes, nose, and mouth. You won't want to spray the face or ears with the hose, and you won't need shampoo here on these delicate areas. Just lightly and gently remove the dust and dandruff with the cloth.
Dry with a Sweat Scraper
Your horse needs to be mostly dry before returning to his stall or pasture. The constant dripping water is usually annoying to horses. And if he's not dry, he'll most likely drop and roll immediately, messing up your hard work (more on this in a second).
You can remove most of the water from your horse's coat and help him dry faster if you use a sweat scraper. Despite the name, this tool gets more use removing water than sweat. Firmly run the flexible blade of the sweat scraper across your horse's body in long motions, similar to how you would use a dandy brush. And avoid the same regions you would avoid when using a curry comb.
This squeezes excess water out of your horse's coat, and a gentle flick of the scraper at the end will help repel beads of water off him. You can't get all the water off this way, but you can get close. You might need a towel or two for further drying, and a nice warm sun can work wonders. If the day is a little chilly, you might need to blanket your horse until he's totally dry. (And always be sure your horse's legs are completely dry before returning him to his stall to avoid irritation.)
Apply a Conditioner
When the bath is all done and your horse is (almost) dry, you can apply a coat product like Farnam Laser Sheen Dazzling Shine & Detangler or Vetrolin Shine, both of which are easy to spray on after the bath. These products give your horse's coat an excellent finishing shine and work as detanglers to help clear any remaining knots from your horse's mane and tail. After applying to the coat, be sure to brush the hair down.
Finally, Ease the Roll!
You may get away without him rolling immediately upon turnout if you can wait until his coat is completely dry. But horses love to roll after a bath! If he's mostly or completely dry, there won't be as much moisture to re-collect the dirt and sand if he does roll. If you really need him to stay looking his best (i.e., a show is coming up), make sure his stall is very clean with a deep bed of fresh wood shavings. These easily brush off and won't stick much, especially if you used a sheening product earlier.
Bonus: Dry Baths
An all-out, deep-cleaning horse bath takes time. If you're in a hurry or maybe trying to keep your horse clean during the winter months, consider a "dry bath" product, like Farnam Vetrolin Green Spot Out, a spray-on shampoo that can be used to remove stains from sweat, manure, or urine quickly. After moistening the stained area with the spray, use a cloth to wipe it clean. No rinsing!
Learning the steps for bathing a horse will help you keep your horse looking beautiful. Don't forget to take photos while he's clean (and before he rolls!).
Life with Horses Newsletter
Sign up now to stay connected with free helpful horse care tips, product updates, and special offers.