Somethin' About Brandi: A Closer Look at the Talented Mare Who Won Back-to-Back Farnam Superhorse Titles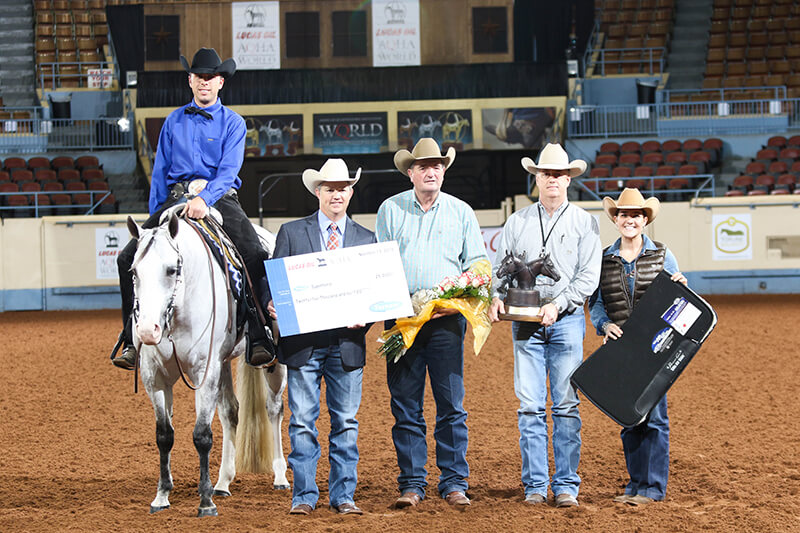 "It's a once-in-a-lifetime experience," said a delighted Twylla Brown of Perry, Missouri, when her mare Snap Krackle Pop won the prestigious Farnam Superhorse title at the 2015 American Quarter Horse Association World Championship Show at State Fair Park in Oklahoma City.
Fast forward to November 2016 and the amazing gray did it again, becoming the first back-to-back winner in 15 years, and the first mare to win more than one Superhorse title. The coveted award is presented to the horse who earns the most points in three or more Level 3 events in three categories during the show. In addition to the title, the Farnam Superhorse is awarded $25,000, $2,000 of Farnam products, an original Lisa Perry bronze and a rose bouquet.
"I guess I'll have to rethink that statement now about it being a once-in-a-lifetime experience," says Brown. "We kind of laughed about it before we went to the 2016 world show and said maybe we could be Superhorse again, but we didn't expect it," says Brown.
"We are very proud of her achievement and want to give most of the credit to Blake (Weis), Kendra (Weis), Caitlin (Schneider), and Megan (Gault) for all the work they do to prepare her for the events," adds Brown. "We also want to thank Farnam for their generous support of the hobby."
Classy Competitor
Snap Krackle Pop is a 2010 mare by RL Best Of Sudden and out of Brandys Silver Sheik bred by Masterson Farms LLC of Somerville, Tennessee. The gray mare, who goes by her barn name of Brandi, was one of 26 contenders and came out on top with 34 points to win the 2016 Farnam Superhorse title.
Shown by her trainers, Blake Weis and his mother Kendra Weis of Moberly, Missouri, both of whom are AQHA Professional Horsemen, Brandi won the reserve world champion title in senior western riding. The mare placed fifth in senior western pleasure, seventh in
senior
trail and 10th in performance halter mares.
In her 2015 Superhorse victory, Brandi won world championships in junior western riding and junior trail, making her 2016 win the first time the Superhorse winner captured the junior division one year and then won the senior division the following year.
In the world of Quarter Horse showing, once a horse turns six, he/she leaves the juniors and moves up into the senior division, which typically has more seasoned show horses, and therefore, tougher competition. There are also more entries in the senior division. Brandi had her work cut out for her, but proved she was up to the task. In fact, rising to the occasion seems to be Brandi's strong suite.
"The senior horses are tough and she's done great all year. She's gotten a lot stronger in the last year, especially in the pleasure and loping off the rail," says Blake Weis. "She doesn't have to have the rail to hold her shoulder up, so that's gotten a lot better. In the trail, it's a lot different in seniors; it's a lot higher and she handled that great."
"She is the sweetest horse and so smart. She is easy to get along with and loves to do her job. She is always willing to please," says Brown.
Longtime Horse Lover
A Missouri native, Brown always wanted a horse, but didn't get her first one until husband Ed bought her a mare as a wedding present. That was 50 years ago when Brown was just in her late teens.
"She was a $100 horse, but you could ride her anywhere you wanted to," Brown remembers fondly. "It grew from there. We've had horses ever since. Our children (two sons and a daughter) got into horses in 4-H."
Since that first horse entered their lives, the Brown family has never been without at least one. Today they have 12 horses, including the remarkable Brandi, whom they purchased in December 2013.
RISING TO THE OCCASION SEEMS TO BE BRANDI'S STRONG SUITE.
Although Brown didn't compete on Brandi when the mare won her Superhorse titles, she does show her horse in select pleasure and select trail classes.
"Over 20 years ago, I started in Kendra's barn," says Brown. "Our daughter started showing and then I started showing when I turned 50 when AQHA started the select classes; I had never shown before that."
She adds that Brandi also loves to do lead line when little kids visit the barn.
In fact, a few months before her second Superhorse win, the laidback gray was ridden by two-year-old Mason Hulbert in a leadline class in July of 2016 at the Minnesota Quarter Horse Association's Corporate Challenge.

"The Hulberts ride with me and Mason needed a horse (for the leadline class)," says Weis. "I said Mason and I could do it on Brandi. He fell in love with her. She did great; she loves little kids. She likes being made over and loved on."
Brandi also loves treats, although not crazy about peppermints, and Brown makes sure the mare gets her treats when she does well. "She's just a little spoiled," says her doting owner.
Bright Future
When she's not showing, Brandi is usually ridden a couple days a week, and gets to spend the day outside in her own paddock.
"She has lots of turn out and lots of treats," says Blake Weis. "At home we don't ride her hard. Some times we'll just take her out and long trot her. We keep her happy and make her like to show."
They don't show Brandi heavily throughout the year, instead preferring just to compete at some major shows to keep her primed for that level of tough competition.
With her wins in 2015 and 2016, Brandi joins a small, but elite, group. Only three horses have managed to win the prestigious Superhorse title more than once since its inception in 1978. Rugged Lark took home the award in 1985 and 1987; Itchin Easy won it in 1992 and 1993; while Acadamosby Award earned the title an impressive three times, in 1998, 2000 and 2001.
No horse has ever been a Farnam Superhorse three years in a row, but Brandi's trainers don't see why the talented gray mare can't come back and try for that magical third later this year.
"Brandi is only six years old, so hopefully, we will be showing her for a long time," says Brown. "The goal is to keep showing and return to the 2017 world show."
Will Brandi be the one to set a new Superhorse record? If anyone can do it, this talented gray mare could, say those who know her best. Stay tuned.
Farnam is a registered trademark of Farnam Companies, Inc.
Life with Horses Newsletter
Sign up now to stay connected with free helpful horse care tips, product updates, and special offers.